Our River Cruise, Ocean Cruise & Tour Specials
Please use this page to learn about our featured special travel offers! If you see something you like or need more information, please call Hank at 713-397-0188 or email him at hschrader@dreamdestinations.com
Special River Cruise Offers
AMAWATERWAYS
We have sailed on 12 AMAWaterways river cruises--CALL US--We are river cruise experts!

Please visit our Co-branded AMAWATERWAYS Site to learn about the latest specials and then call or e-mail Hank!
PLEASE CLICK HERE TO VISIT OUR CO-BRANDED SITE NOW
2017
We have a group special on the 26 October 2017 Paris & Normandy Cruise.
Please Click Here to see a PDF Slide Show of this Awesome Trip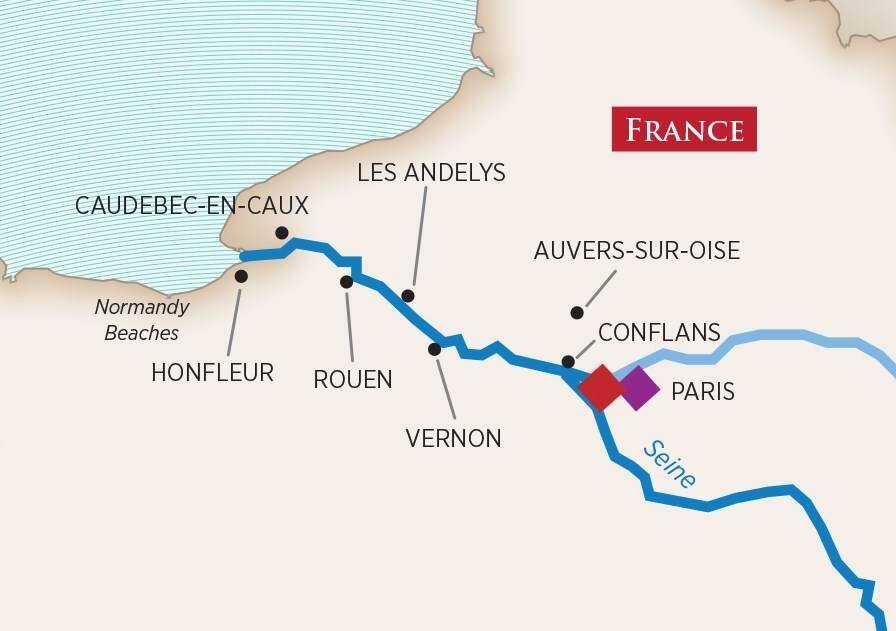 CRUISE FROM : Paris to Paris
Begin your journey in magical Paris, the "City of Light," where you will embark your luxurious river cruise ship. Visit the village of Giverny, where Monet lived and worked for 43 years, and Honfleur, a charming French harbor town immortalized by generations of artists. Stroll through Rouen, the historic capital of Normandy, then take an unforgettable excursion to the famous Normandy beaches of WWII. Visit Les Andelys, home of Château Gaillard before concluding your trip back in Paris.
Paris & Normandy

At A Glance
On your cruise, you will enjoy an extensive lineup of included tours. In many cases, you will have a choice of excursions, such as standard tours, bike tours, hikes and Limited Edition tours. AmaWaterways always includes a large variety of activities so that you can choose how you want to explore. No matter your preference, your days will be full of discovery and wonder.
The Enchanting Rhine
We have a group on the November 11 2017 sailing. This is a special wine themed cruise.
Please Click Here to View a PDF PowerPoint of this Special Cruise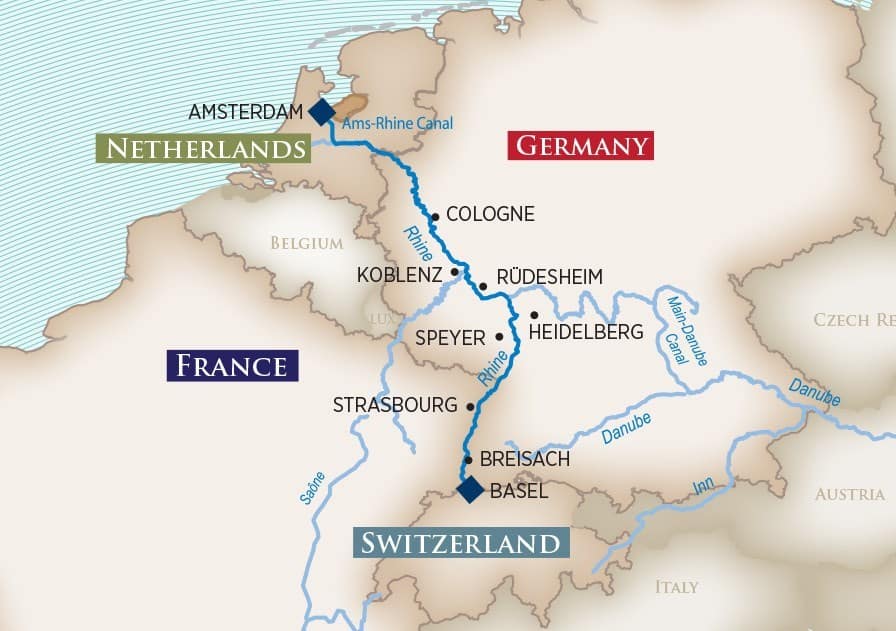 CRUISE FROM: Basel to Amsterdam
Your journey begins with the optional pre-cruise tour amid Switzerland's snow-capped vistas, with a scenic lake cruise and souvenir shopping in the cosmopolitan cities of Lucerne and Zurich. Begin your cruise in Basel with a visit to the old town area. Continue on to medieval Strasbourg with its distinctive half-timbered buildings, and the Black Forest region; the university town of Heidelberg, the world famous Rhine River Gorge dotted with over 30 castles; and visit the majestic cathedral in Cologne. Your awesome cruise concludes in Amsterdam with its legendary canals and distinctive architecture.
COUNTRIES: France, Germany, Netherlands, Switzerland
RIVERS: Rhine
A Taste of Bordeaux
Please Click here to View a PDF PowerPoint about this Awesome Cruise
2018
The Captivating Rhine
Starting in vibrant Amsterdam, sail the mighty Rhine River south to Cologne and its magnificent cathedral; then on to the Rhine Gorge (world famous for its 30 hill top and riverside castles); cruising on to the storybook half-timbered towns of Riquewihr and Strasburg and end in Basel Switzerland. If you like visiting 4 countries; great cuisine, exceptional beers and wines—it is an unmatched trip through northern and western Europe.
Scenic Luxury River Cruising
We have sailed on the Scenic Opal. It is an amazing ship and this is a great company.
Call Hank at 713-397-0188 for more information or to book these great river cruises!
SPECIAL OCEAN CRUISES OFFERS
Azamara Club Cruises
We have sailed on the Azamara Quest and it is awesome--please contact us to learn more!
Crystal
Please call Hank at 713-397-0188 to learn how Crystal will let you experience cruising on a whole new level!
Oceania
Celebrity
Call Hank at 713-397-0188 to learn more!
Norwegian
We love Freestyle Cruising! Call Hank at 713-397-0188 to learn more!
Carnival
Please call Hank today at 713-397-0188 to learn more about these great specials!
Princess

Twice As Nice Sale



Call Hank at 713-397-0188 to learn more!
Royal Caribbean
Call Hank at 713-397-0188 for more details
SPECIAL TOUR OFFERS
We often partner with Europe Express, a great relible vendor to provide superb European Vacations. Here are some reasons why:
We are Europe Experts! We have visited 35 European Countries; written 49 European Destinations Guides; we lead tours in Europe and are certified Europe Destination Specialists. Let us plan your next European vacation!
Image Tours
Please give Hank a call at 713-397-0188 for more info